The Flexible Packaging Association helped to ensure that our essential work continues uninterrupted.
One of the critical actions taken by the Flexible Packaging Association during the COVID-19 crisis involved their leadership in having packaging providers deemed essential workers. The FPA issued letters to the White House, all Governors, and leaders on Capitol Hill to emphasize that packagers support critical industries like food and medical supplies, and they asked for clarity with respect to federal, state, and local government proclamations that named essential business operations.
Some of the points they emphasized:
·      Flexible packaging protects products that consumers use every day, including hermetically sealed food and beverage products as well as sterile health and beauty items and pharmaceuticals. Even packaging for pet food uses flexible packaging to deliver fresh and healthy meals to a variety of animals.
·      Flexible packaging is also used for medical device packaging to ensure that the products packaged, diagnostic tests, IV solutions and sets, syringes, catheters, intubation tubes, isolation gowns, and other personal protective equipment maintain their sterility and efficacy at the time of use. Trash and medical waste receptacles use can liners to manage business, institutional, medical, and household waste.
·      Carry-out and take-out food containers and e-commerce delivery, which are increasingly important during this time, are also heavily supported by the flexible packaging industry.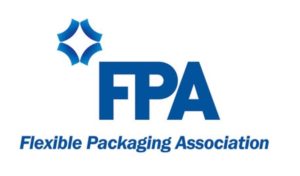 The FPA and its members are clearly vital to the supply chain when addressing the needs of U.S. consumers in responding to the COVID-19 crisis. Read more about the work of the FPA in this important effort here.
The 2020 Board of Directors Has Been Named, and the Organization is Demonstrating Leadership During the Pandemic
The Flexible Packaging Association (FPA) recently announced the election of its 2020 Board of Directors. Curt Begle, president of the Health, Hygiene, and Specialties Division of Berry Global, will continue as chairperson, and Kathy Bolhous, CEO of Charter NEX Films, has been elected as executive vice chairperson.
AMGRAPH's CEO, Ken Fontaine, will continue to serve on this important industry advisory board in the coming year.
The 2020 board members were elected by FPA voting members for a one-year term, with the exception of the chairperson's two-year term. They assumed their directorship on March 4 during the FPA 2020 Annual Meeting in Bonita Springs, Florida. The 2020 Board is comprised of industry leaders from 37 flexible packaging companies.
Read about all the members of the 2020 Board of Directors here.
Like all FPA members, we at AMGRAPH are committed to the health and safety of our workforce and the families they support. We back the FPA in its effort to make sure we can continue to deliver critical goods and services throughout this crisis.
At AMGRAPH, we are committed to the future of our industry. Our commitment is evident in Ken's continued representation as an industry advisor. Together, we can ensure that the needs of our customers met while taking into account the needs of the planet though continuous sustainability efforts.