AMGRAPH Gets Greener
Before the catchphrases "going green' or "carbon footprint" became common household terms, AMGRAPH was leading the flexible packaging industry in sustainable production. Since our inception in 1984, we've worked to set the standard for green tactics that reduce our environmental impact. AMGRAPH helps our customers understand and go beyond the sustainability requirements by minimizing or eliminating harmful chemicals, excess materials, and waste byproducts.
We recognize that our planet's natural resources are finite, and it is everyone's responsibility to preserve and protect them. By getting greener together, we meet the demands of our customers today while keeping the Earth green for tomorrow.
AMGRAPH is committed to making sustainability a key consideration in all our decision-making processes. Our sustainable efforts are corporate-wide and include:
Products
Inks – offering a water-based, solvent-free ink option.
Quality – Testing for any trace contaminants using GC-MS (Gas Chromatography-Mass Spectrometry) in all raw materials – both packaging and product.
Electron Beam (EB) inks – eliminate VOCs (volatile organic compounds), allow for complete recycling of paper, require no protective resin coating, and reduce your package costs.
Environmental Strategy – requires environmentally waste-efficient systems.
Processes
Recycle – Reuse or recycle 99.5% of our waste stream.
Water – Zero wastewater to ground discharge.
EnergyStar – replace new motors and drives with EnergyStar rated parts for better efficiency.
Installed two new PureCell® System Model 400 fuel cells, creating 100% of our facility's electricity.
Facility – earth-friendly facility opened in 2009 features insulated concrete forms that reduce energy required to heat and cool facility by 71%.
Green Features – radiant floor heating and ventilation system heat exchanger contribute to reduced energy requirements in new green facility.
Feeding 70% of our clean waste to an energy-producing facility.
Zero land fill program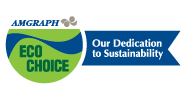 AMGRAPH's Eco Choice seal is the symbol of our sustainability commitment to our manufacturing practices, in-house initiatives, and environmental stewardship. As one of North America's most earth-conscious operating plants, AMGRAPH continues to raise our standards on our environmental impact.
Call us today to learn more about how your flexible packaging can go green, and together we can help keep our Earth green for tomorrow. 866-479-0024