Coatings and laminations give packaging an ultra-modern look, helping to boost visual appeal at the point of purchase and drive sales. Unlike other packaging manufacturers, Amgraph produces all of its coatings and laminates in-house, giving us total control over our materials and processes. That translates into better quality and performance for our customers.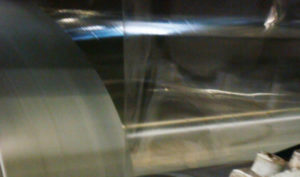 Our tandem co-extrusion coatings and laminations:
Combine high-performance structures and resins cost-effectively
Improve efficiency with computer-controlled extruder dies and gauges
Save raw materials via closed-loop manufacturing
Minimize waste
We specialize in custom laminate structures. Certain packages may call for more barrier; others may be fine with a minimal coating. In all cases, Amgraph bases its suggestions on what the customer's specific application calls for – no more, no less. We offer both adhesive laminates, which save cost and time, and extrusion laminates, which incorporate coatings and laminations to provide various combinations of barrier and heat-seal thickness.
And because all Amgraph coatings and extrusions are made in house, you get a better package that's meets your exact needs.