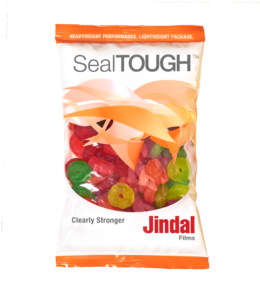 At AMGRAPH, sustainability is a key consideration in all our decision-making processes – from the equipment we operate and the materials we use to the many suppliers we do business with.
Sustainable film products are a particular focus of ours, as we seek to source films that are made from fewer resources, but with no drop-off in performance characteristics.
Down-gauging is an effective strategy for increasing the sustainability of packaging. When employed, down-gauging delivers a thinner gage film and thereby reduces the amount of material needed. However, such films are only feasible if they maintain the barrier and permeation properties of the thicker films they are replacing.
AMGRAPH is thrilled to enjoy an ongoing relationship with Jindal Films, a global leader in the development and manufacture of specialty polypropylene (OPP) films.
Jindal's lightweight and versatile OPP films bring superior printability, machinability, and graphics appeal to a wide range of packaging applications. They provide cost savings advantages over many other film options. And through effective down-gauging, Jindal films increase sustainability without any fall-off in packaging performance.
Recently, Jindal introduced SealTOUGH™, a breakthrough polyolefin sealant film technology. SealTOUGH™ is a high-quality skin that combines strength and excellent performance with outstanding sustainability.
Compared with blown polyethylene, SealTOUGH™ delivers significant advantages:
Enhanced puncture and flex-crack resistance for frozen applications
High permeability for produce applications
Improved puncture resistance for packaging sharp or abrasive products
Improved directional tear for opening
Improved burst strength for over-the-mountain shipping
Compatibility with containers for lid stock applications
Improved strength for products with hang tabs
SealTOUGH™ also enables source reduction in the package production process by allowing down-gauging by as much as 50 percent, increasing the recyclability of any flexible film package. With a SPI resin code of 4, SealTOUGH™ supports the Walmart Sustainable Packaging Playbook and is accepted for consumer store-drop-off recycling.
SealTOUGH™ films are clear, allowing better package graphics and bag clarity. By reducing gauge, they lower weight and costs, while supporting sustainability. And SealTOUGH's™ high tensile strength reduces elasticity and provides outstanding impact resistance.
AMGRAPH is always looking to team with suppliers such as Jindal Films, whose commitment to sustainability aligns with ours. Through such partnerships, we are able to produce packaging that not only meets our customers' objectives but also helps protect the planet that we all share.
AMGRAPH, a flexible packaging company based in Baltic, Connecticut, has built its business on environmental stewardship and sustainability, with a commitment to clean air and water, sustainable packaging, and reduced dependence on natural resources.