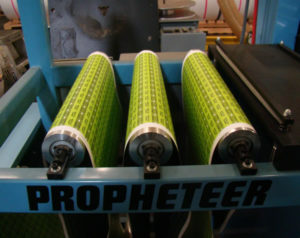 Because AMGRAPH offers food packagers a range of printing options, including lithographic offset, rotogravure, and flexography, we are able to guide customers to the process that best suits their specifications.
If you are looking for a quick turnaround at lower costs, lithographic printing delivers distinct advantages. Lithography can combine four process colors with one or two PMS colors for a high-quality look. Your color gradients will be smooth, and your graphics and type will be crisp.
Specialty coatings, from a sophisticated matte finish to a super high gloss, can add value while increasing package integrity. And with lithographic printing, you can reduce lead times by as much as 50 percent. There will be fewer start-up costs, as well.
7 upsides to lithographic printing
Delivers high-quality packaging quickly
Lowers entry costs to print packaging, including one-time tooling costs
Reduces time-to-market and lowers risk for new product introductions
Allows enhanced or modified package graphics "on the fly"
Reduces inventories to be maintained
Supports your line extensions and niche markets
Offers advantageous couponing opportunities
No matter which printing process you employ, your packaging can benefit from AMGRAPH's use of water-based inks, which are solvent-free and thereby minimize both human and environmental impact.