AMGRAPH's array of printing capabilities includes rotogravure, flexographic, and offset presses. Each offers distinct advantages to packaging producers. Rotogravure generally provides higher quality images and more vibrant colors, while flexography provides greater substrate flexibility and faster, more economical production. Offset printing is well-suited for short-run work and for brands that print a wide range of SKUs.
AMGRAPH will help you determine the right printing process for the specific needs of your packaging project.
The benefits of rotogravure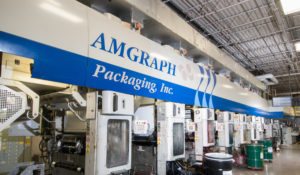 Rotogravure printing gives you high-quality, sharp imagery at high speeds and is ideal for both short and long runs, or repeating runs. With two Rotomec presses, AMGRAPH has been able to secure a large portion of the chewing tobacco pouch market, where the demand for high-quality graphics is strong. Rotogravure is ideal for reproducing photographic imagery and other continuous-tone content.
Superior image depth and resolution
Exceptional color reproduction, brilliance, and saturation
Fewer process variables, size limitations, and non-print areas
Consistent product line results for medium and long runs
The benefits of flexography
Flexography is a modern version of the traditional letterpress and can be used on virtually any type of substrate. It is ideal for line color in medium to long runs. AMGRAPH also has a narrow flexographic web press that is more economical to operate and therefore suitable for shorter runs.
Fast and economical, with high-definition graphics
In-house sleeve- and plate-making speeds time to market
Can be used on nearly any non-absorbent material
Ideal for production of folding cartons, labels, and packaging materials
Allows a range of colors
In February 2017, in response to customer demand, we committed to the purchase of a new, ten-color CI flexographic press, advancing our flexo technology and increasing our capacity.
The benefits of offset
Offset printing is an ideal choice when you need to get to market fast.
Minimizes capital costs to bring new products to market
Plates are low-cost and easy to make
Far less tooling costs compared with other printing methods
Applies multiple colors in a single pass and also prints photographic-quality images
In every case, the benefits of water-based inks
Whether you employ rotogravure, flexographic, or offset printing, AMGRAPH offers water-based inks, reflecting our company's commitment to sustainable flexible packaging processes. Water-based inks are solvent-free and therefore reduce concerns about VOCs and related health problems. They also minimize environmental impact by eliminating solvent disposal and dangerous emissions.
AMGRAPH, a flexible packaging company based on Baltic, Connecticut, has built its business on environmental stewardship and sustainability, with a commitment to clean air and water, sustainable packaging, and reduced dependence on natural resources.